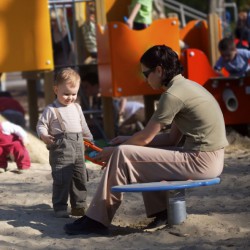 More About Supervision of Visiting Children
Farms can be dangerous for visiting children. Farms are often unfamiliar to visitors, who don't recognize the hazards found there. Children also tend to be impulsive and act before thinking, which increases the danger.
With their great imaginations, children may use equipment and other items on farms in unexpected ways. The end result is that children need to be constantly supervised when visiting farms.
Supervision Information
Ensure visiting families and groups have a sufficient number of adults to supervise children. Follow state guidelines, or in the absence of state guidelines, the Teacher-Child Ratio recommendations from the NAEYC may be used.1
Adults must pay attention to the children they are supervising, and not talking among themselves, texting or otherwise occupied.
Have a policy is in place for the supervision of children, which details guidelines for supervision and adult/child ratios.2 An informational handout that group leaders can share with their chaperones should also be provided.3
For more information on supervision, please visit the "Supervision Walkthrough" in the Play Areas section.
Resources