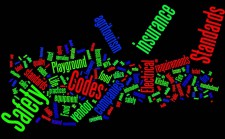 Insurance companies base their eligibility requirements on nationally recognized codes and standards. This enables them to:
Maintain a consistent safety message.
Ensure quality manufacturing and operation of components.
Allow clients to understand where requirements come from.
Hold everyone accountable to the same standards.
Provide a sound decision, researched and approved by an independent party.
The codes and standards insurance companies use come from various sources. The information on the following pages will help familiarize you with the various types of codes and standards typically used by insurance companies. These codes and standards may also be utilized by local officials, like county and state building inspectors.
Unfortunately, there are no codes or standards that address some of the more unique agritourism activities. This makes it difficult for both insurance companies and agritourism operators when it comes to reviewing unique activities being offered on some farms. In the instance where there is no known code or standard, an insurance company may involve engineers or other experts to review the activity, or they may say that the activity is outside of their risk tolerance and choose not to insure it.