Visitors on farms and ranches…let's keep them safe.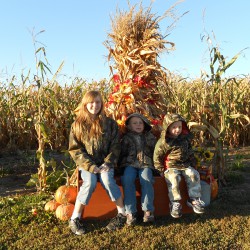 Agritourism – activities that bring visitors to a farm or ranch – is seen more often today than ever before. Types of agritourism operations vary: corn mazes, pumpkin patches, pick your own operations, dude ranches, and more.
Almost 30 million children visit farms and ranches each year.
Most visitors are unfamiliar with the agricultural environment – and the hazards found there.
Owners need to ensure the safety and health of all guests visiting their operations.
To help keep visitors safe, use the walkthroughs, checklists and resources found on this website to implement safety best practices. It's easy and fun. Learn how!
For more information, see: 2019 Childhood Agricultural Injury Fact Sheet.
For more information on keeping children safe on farms, visit the National Children's Center for Rural and Agricultural Health and Safety website: www.marshfieldresearch.org/nccrahs.